Discovering English Ancestors
Created by David H. Pratt, PhD Emeritus Professor of History and A.G. Emeritus
In Memory of David E. Gardner, FSG Mentor, Colleague, Friend
Introduction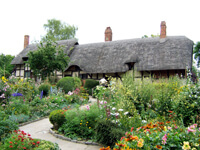 The purpose of this website is to provide an outline of some efficient ways to trace English persons in the past. It does not attempt to cover the rest of the British Isles. The researcher can scan through it quickly and click on the highlighted terms for greater details in less familiar areas. The overall approach is to list websites where online sources can be found, list key books and filmed materials at the Family History Library (hereafter FHL) in Salt Lake City and at Brigham Young University (BYU) in nearby Provo, Utah, and outline the methodology for research in Britain.
To note: unique pieces only available on Discovering English Ancestors are in-depth information regarding Dade Registers and locating pre-1858 probate records.
This website is meant to assist professional scholars doing biography, demography, prosopography, the study of a place or the family as an institution as well as the genealogist. If you are interested in personal family history or are a beginning genealogist, begin with the "Getting Started" page. If you are a professional scholar or seasoned genealogist in English research you may wish to skip to start elsewhere. The navigation bar on the left hand side will outline the resources this website offers.