Marriage Records
The Church of England controlled the right to marry before 1837. The only legal exceptions allowed in the time period from 1754-1837 were for Quaker and Jewish weddings. The most popular way to obtain permission to marry was by publishing banns showing the intention to marry over a three week period in the parish of residence of the bride and groom. If they came from different parishes then the banns would be published in both. Marriage by banns had to take place in the same parish(s) where it was published.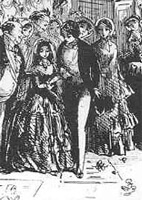 A more expensive but quicker way of obtaining permission to marry was to buy a license from the appropriate Anglican jurisdiction. A license would allow the couple to marry in one of three parishes named in that license. The jurisdictions that could grant a license within the county of residence were the same ones that issued probate. (Start with the probate jurisdiction given at FamilySearch Maps or see the county of interest under Probate for further information) Licenses were also granted by the provinces of York and Canterbury. If at any time you find that your ancestors were married by license, always search for the documents that were filled out before the license was issued: the allegation in the pre-1823 time period, the bond, and the act book entry (especially if there is no allegation). (See # 5 below)
Spacing between children tended to be two years. If a woman was married at age 24 or 26, she would have about 15 years for child bearing after marriage. Accordingly, let us assume that you have found 5 children for what appears to be the same couple in one parish. There were no further entries for this couple for 5 years before what appears to be the first child and 5 years after the last one. Start with the assumption that they married in that parish some time between one year after the christening of the first child and four years before the first christening, or to be on the safe side you could search a total of 10 years to allow for christenings of children elsewhere. If the likely marriage is not found in that parish, was there at least a banns entry that indicated another parish to search (probably hers)? If the banns are not given in the same marriage register, check to see if there is a separate banns book for that parish.
For more information regarding English marriage records, read this FindMyPast expert page as well as the FamilySearch Wiki page on England Church Records.
Search Routines for a Missing Marriage