Maps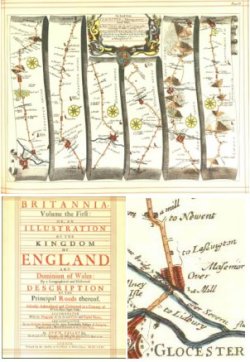 Maps are an essential part of the research process. The most accurate maps are the Ordnance Survey maps initiated by the British government that began to appear in the early 19th century. Modern Ordnance Survey maps can be used at both the FHL and BYU to quickly determine a place's exact location and surrounding neighborhood. The use of earlier maps may help locate tiny places, places that no longer exist, and places that have gone through name changes. Topographical features on any map may help determine the direction of internal migration.
Modern Ordnance Survey Maps
The quickest approach is to use the free service for the small maps on the web listed at Ordnance Survey.
For a larger view of the same area, use the Ordnance Survey Landranger Map Series. The scale of this series is a little over 1 inch to the mile on 204 map sheets. First consult the Gazetteer of Great Britain for this map series. The FHL has the 3rd edition of this gazetteer that is usually found next to the actual maps (FHL British Reference Area 942 E5o 1992). BYU has the 1st edition of this gazetteer located in their Map Collection under Quarto DA 640 .073x 1987. The Gazetteer of Great Britain is also available on Ancestry.com.
Locate the place of interest in the above gazetteer to determine the grid reference and map sheet number. The grid reference comes right after the place name and consists of two letters of the alphabet followed by four numbers. At the far right for this place entry you will find the sheet number.
The FHL Landranger maps are bound in 3 large volumes located on a table near the British Reference Counter. Volume 1 covers map sheets 1-68, volume 2 has map sheets 69-138, and volume 3 is map sheets 139-204.
The BYU Map Collection includes two sets of the Landranger series. The flat map sheets, 1-204, are in the map case under G 5740 s50 .G7. The folded maps are easier to use and are in the nearby metal files under the same references.
Earlier Maps
Ideally, the maps used in research should show the area as it was in the time period of residence of one's ancestors. For help in finding such maps on the internet, the FHL and BYU, visit the following:
Note: For further helpful information on English maps visit the FamilySearch Wiki.